This article appeared in the April 2013 edition of NZ Hot Rod Magazine.
By Craig Stare
The very talented Mark Stead from Blenheim wanted something different, very different in the way of a workshop " hack " to promote his business,' Big Shed ' customs. Sure it would have been easy to just paint up a jailbar or Chevy truck and stick on his company name. You'll work out fairly quickly that Mark never takes the easy way out, and it's always done right. After seeing a COE truck at a rod event in Dallas, he thought it would be very cool for his shop and knew he could make one a lot better. Amazingly enough he found a complete cab with guards rusting away in his own home town. The downside to this was that the owner wouldn't sell it to him.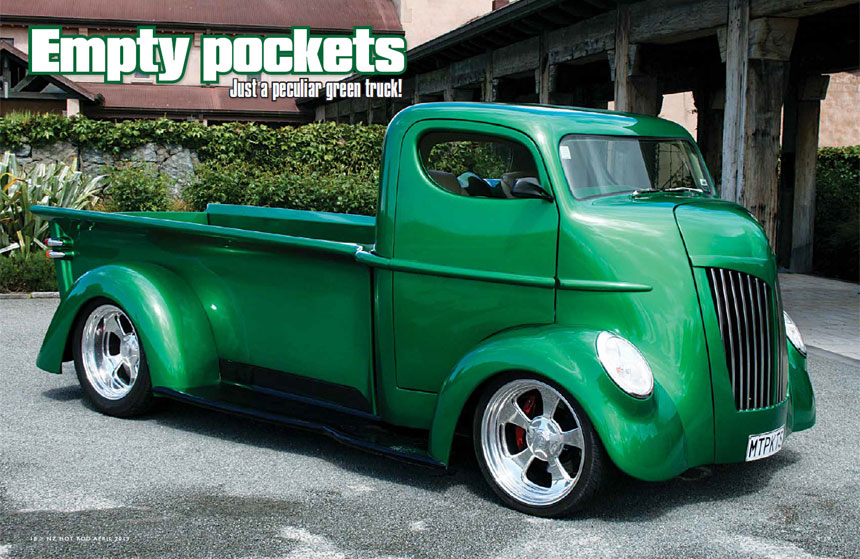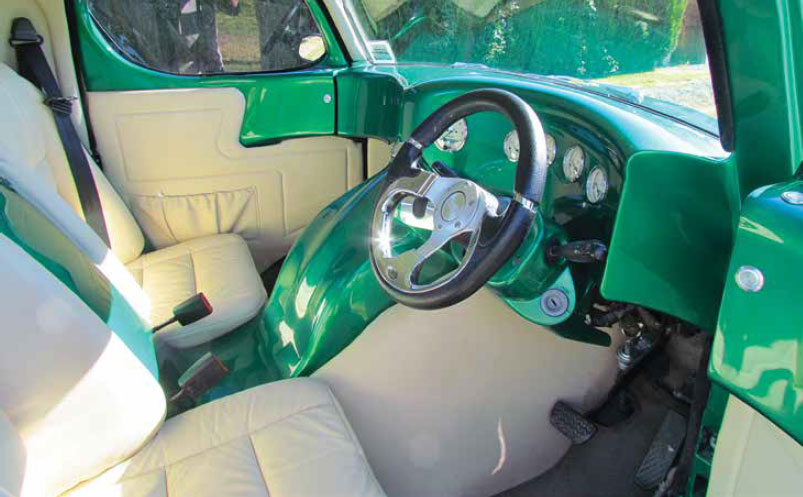 After a period of sulking subsided, he convinced himself that he could just build one. He's not sure if it was too much bourbon or not enough, but he inevitably opened his big mouth and announced for all to hear that he would construct one from scratch, with just his thought pattern to go by! Surrounded by disbelievers, they became his big inspiration to keep going, most saying it would never happen. It also didn't help to see a custom model of one in a local toy shop with big wheels and an unusual green at that. Just two years and two months later after cutting out the first pieces for the floor pan, Mark drove his dream down the road for the first time.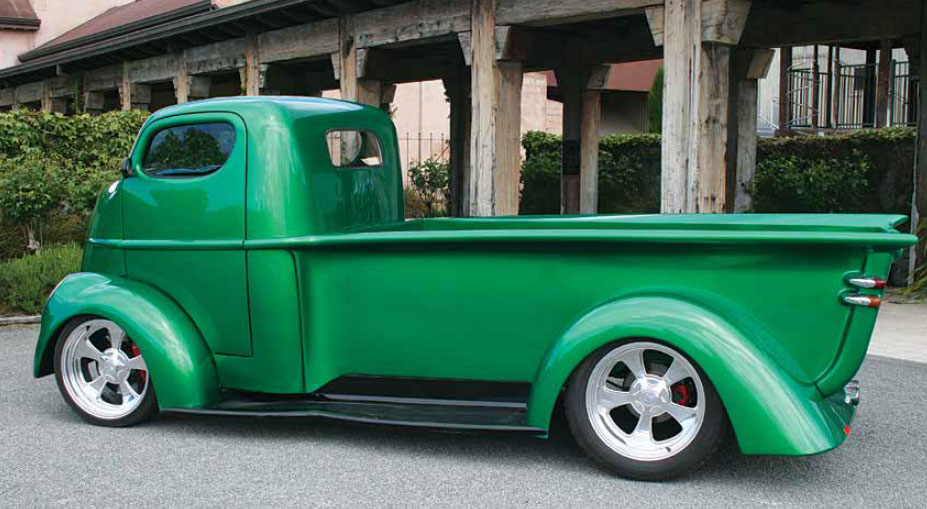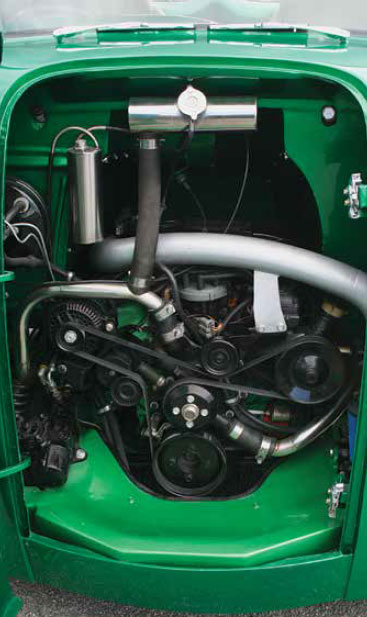 The basis of the truck was a Toyota Hilux chassis which he modified to his own ideas. The modified front suspension now has HSV Holden discs, and runs a disc brake Falcon rear end with 4-bar links. Mark chose an injected 303 Ford engine and 4-speed Falcon auto and utilises a complete stainless exhaust system. At first glance the truck appears to have no radiator, at the front anyway! There is one on either side under the deck. Wheels are Billet Specialties, front 20" x 9" with 245 x 35 x 20" tyres and rears are 20" x 10" with 295 x 45 x 20". Mark created all the bodywork himself and the amazing metalwork also extends into the cab area. The truck is basically a concept vehicle based loosely on the old ford COE with every panel being hand crafted, including the tray, guards and grille. Headlights are '04 Mini with Hella truck marker lights on the rear and motorcycle mirrors.
When it came to paint this was also done in-house with a special mix green which knocks you off your feet in the sunlight. The interior consists of hand fabricated seats all covered in cream leather and features Autometer gauges, electric windows and electric door poppers. Beating the odds completely the truck was debuted at the 2012 Beach Hop. Four great mates worked their a….. off doing some real long hours alongside Mark but want no recognition in print, just beers! Whilst driving in the grand parade Mark overheard a lady say what a peculiar green the strange truck was painted. This appealed to Mark's warped sense of humour so the next person to ask the colour of the truck was told it was called Peculiar green. This seems to go hand in hand with convincing some people that it's powered by an air-cooled aeroplane engine! Of course there is also the poor sod who asks what it used to be? The reply…."just half a pallet of panel steel mate!"
It has taken 3,000 hours to create this masterpiece and wife Tanya thought that was great as this was 3,000 hours where she had the television remote! Thanks to the guys at Big Shed customs, Malborough Motor Trimmers, Resene, Tanya and all the doubters who said it couldn't be done. As a member of Sun Valley Roadsters, and a head full of ideas there's a lowboy fenderless, completely hand built '37 roadster well under way. I guess this means only one thing really; Tanya is going to have that remote for a while to come yet.