This article was published in March 2014 edition of NZ Rodder magazine
Story and pics by Alistair Davidson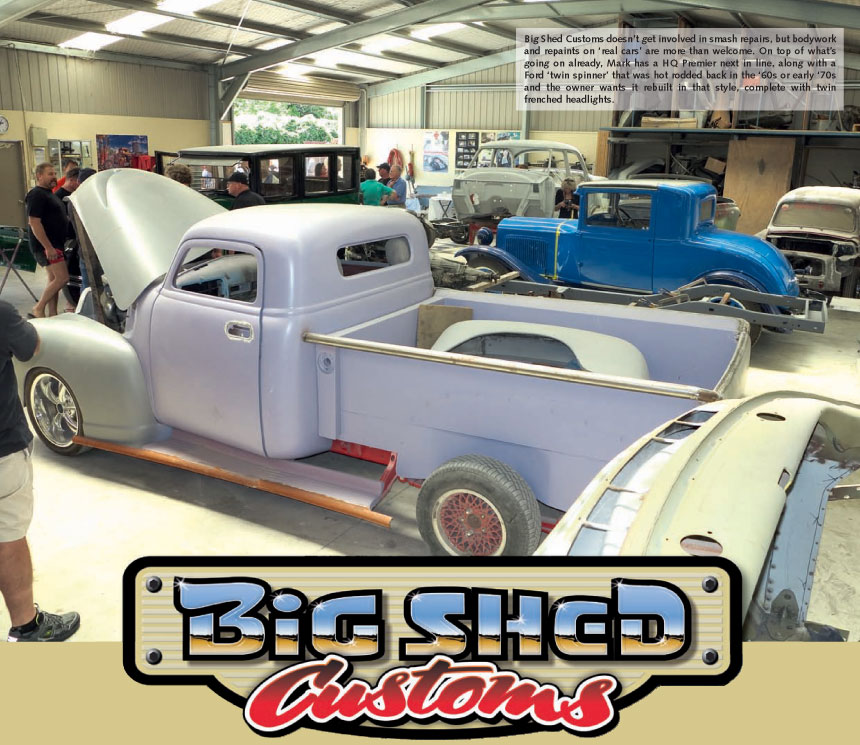 It's a good job that Blenheim's Big Shed Customs is actually located in a big shed because demand for the company's services is such that floor space in the well equipped shop is in short supply.
Mark Stead is a panelbeater by trade. His apprenticeship was primarily spent doing smash repairs, and that continued right through until the mid '90s when, as Mark puts it, "I'd basically had a gutsfull". He'd been doing the occasional bits and pieces for people with old cars, working in their sheds. Realising there was a demand for quality restoration and custom work he took the plunge and rented a tiny workshop in Blenheim. "It grew from there," explains Mark, "so six years ago we built a big shed-type workshop at home and Big Shed Customs was born." Mark is joined by full-time qualified mechanic Steve Mitchell (who has also just about finished his time as a panelbeater) and Mark's partner Tanya Borck who helps out as much as possible once she's finished her day job as a primary school office lady. Big Shed Customs has morphed into a true one-stop shop, handling basic tidy-ups through to full concourse quality restorations and jaw-dropping custom work.

While Big Shed Customs has rolled out a lot of high calibre work, two recent builds have really caught hot rodders' attention: Stu and Glynis Windle's '37 Ford cabriolet hot rod and Mark and Tanya's totally custom built Cab Over that started life as a pallet of panel steel, both of which have won multiple awards.
Almost all work is handled in-house thanks to the team's varied talents and a comprehensive range of equipment that includes an invertor spot welder, Pulmax power hammer, an alignment machine and electrostatic spray equipment in a purpose-built booth. Be it a chopper, a vintage car restoration or a custom, nothing's too big an ask and it all gets the same level of craftsmanship and attention to detail.
If you'd like to know more check out www.bigshedcustoms.co.nz, phone (03)577 9573 or find them on facebook.