This article appeared in the July 2013 edition of NZ Hot Rod Magazine.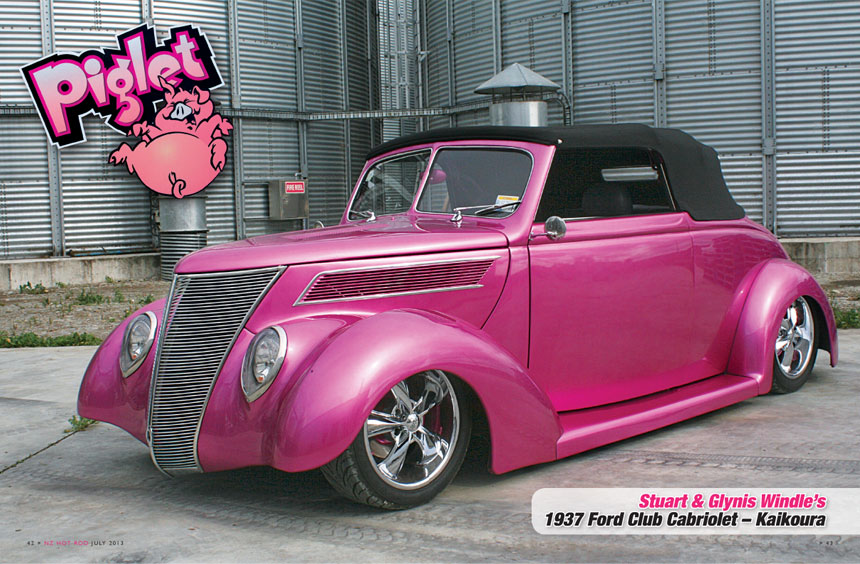 By Craig Stare
Stu started his rodding life around 1988 when he purchased a 1929 Hupmobile described by many as 'a hen house on wheels!' He spent three years building it to a 6-71 blown 440 Magnum-powered sedan before debuting at the '91 Invercargill Nationals. He still owns this car today and it's used regularly.
The year 2000 saw the purchase of a rare steel 1937 club cabriolet from Argentina; it was a basket case project which had arrived in Blenheim.
These cars are factory fitted with a front and rear seat, compared to a convertible which has only a front seat. It was a major project but Stu had a vision and he'd proved the doubters wrong once before.
Undaunted, work began in 2009 using a recommended panelbeater but this ended up being a nightmare in itself, lots of money spent, long waits and two court cases gave him a body which in places was over 1" thick of bondo. You get the picture.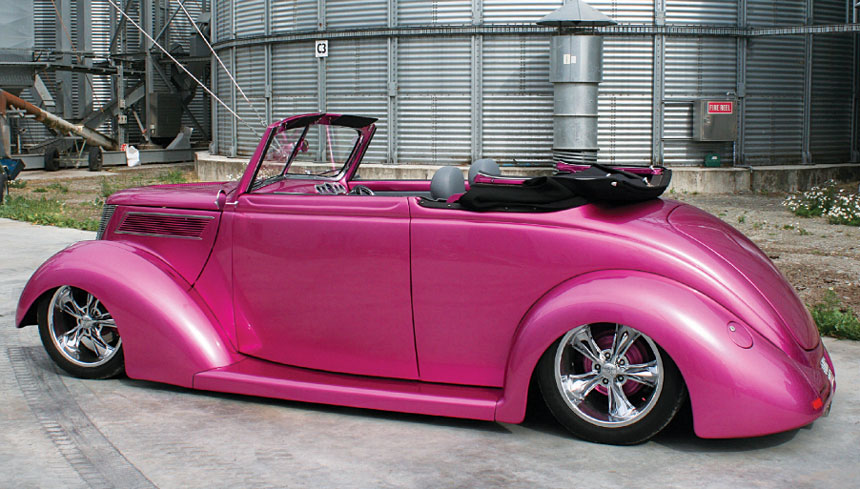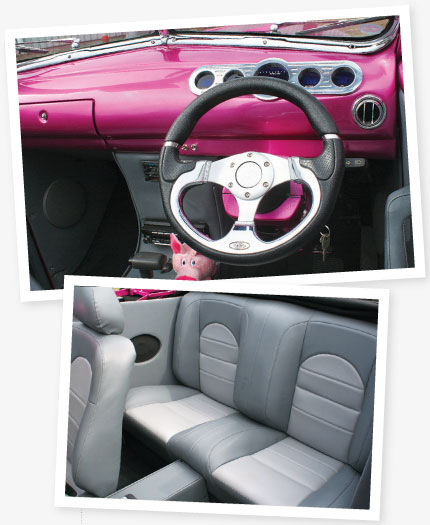 The idea had been to attend the 2011 Invercargill Nats in the new car but this did not happen so again the 'Hup' was called on to fulfil the mission.
The chassis work was done by Stu and an engineer mate, Matt Novis. They started with the original '37 frame rails with an intricate 1" box section space frame structure. The 8' Ford rear end is supported by an air-ride system and four links and frame rails are C-notched for clearance.
Front end is Heidts independent, with a power rack and pinion, and Shockwave air shocks. There's 11" discs on front, matching calipers, drum brakes on rear, all with a Ford bolt pattern. An aftermarket dual master cylinder/ booster combo is also used. Another interesting part is the electric-operated hand brake.
The engine is an injected EB Ford Fairmont 5.0L 302 engine with mild cam rebuilt by son-in-law Paul McIntosh. This is backed up by a BTR 4-speed Fairmont auto trans. Bodywork time – again. The body was assessed by 'metal magician' Mark Stead (Big Shed customs) in Blenheim. He quickly confirmed the worst that a complete rebuild would be required.
So it was shot across the strait to Wellington for dip-stripping. This really showed up how much had been covered up by the earlier repairer.
Mark became really entrenched in the project and major metalwork included two new door frames and skins, two new rear quarters, half a trunk lid, new strengthened sills and a host of other mods including removing all the handles, now all electrically operated.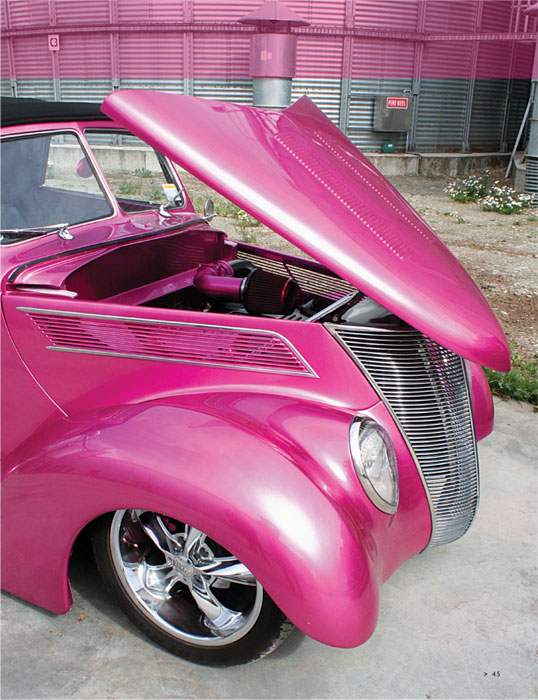 After all the bodywork was complete the car was also painted at 'Big Shed', by Vaughan Hall in a colour Stu and Glynis had a hand in creating called ' Stu's hot rod pink'.
All the electrical was also handled in-house by local Steve Mitchell Mechanic/ Sparky. I reckon he deserves a medal because I saw the miles of cable he had to sort out, and this car has a computerised engine and electric everything! Headlights are Autoloc.
One of the highlights of this car is the hood, with the help of two electric actuators; it is a real treat to watch it do its thing, kinda similar to watching a Ford retractable in motion. Speaking of the hood, it was louvred in the '70s and once graced Brian Robinson's 1937 Ford sedan in Autorama back in '78.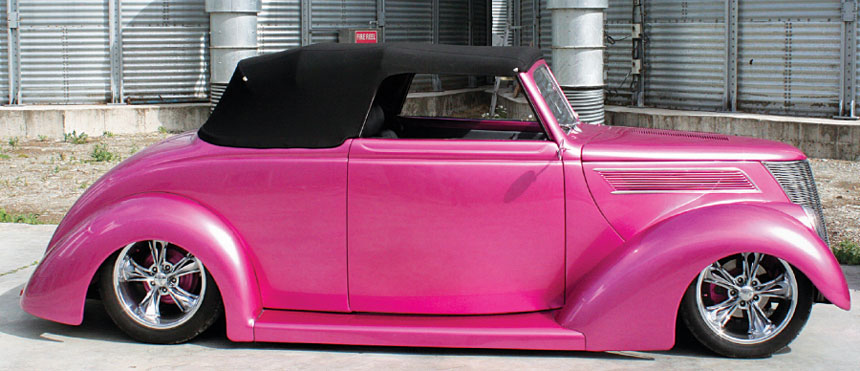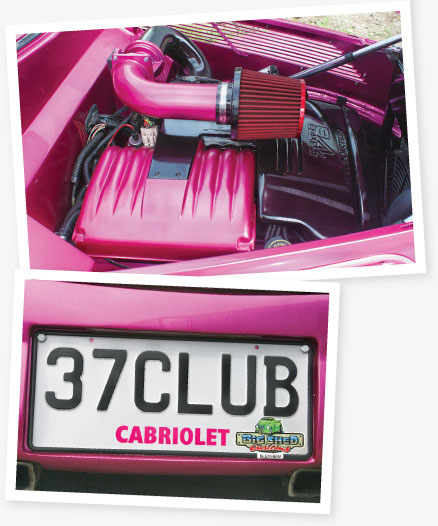 The paintwork is set off nicely with Foose 17" x 7" on front and 17" x 8" on rear. Tyres are 225/50 x 17" and 255/60 x 17".
The interior had to be created from little more than a pair of Mazda bucket seats and Stu's homemade console. Will Sales from Classic and Custom Auto Interiors in Christchurch handled this brilliantly as per usual making a new rear seat, and all new panels to upholster, and covered them in two shades of grey vinyl. The bare roof hood bows were covered in top grade black fabric. Stu cut down a '40s dashboard and fitted it with a complete instrument set-up from Dakota Digital. A Vintage Air and Heater package is also employed.
The trunk area is a continuation and has a removable access panel to get to the Air-Ride components, consisting of 5-gal air tank with twin compressors and the usual solenoids etc.
The revised 'Big Plan' was now to debut the car at the 'Beach Hop'. A few days before leaving for Whangamata the trans had shifting problems and the grille stainless was being installed the night before they left. How often does this sort of thing happen?
After entering 'the Hop' they heard that the Street Rod Nationals were on the following weekend in Taupo so they entered. Both Stu and Mark Stead were elated to receive a Top Ten placing here.
Since leaving his current home town of Kaikoura the new car has clocked up 3,000 km and the best part is that due to the great weather 2,000 of them were with the top down!
There are now the small special trophies (stone chips) but these are only earned if you are out there enjoying your ride.
The Windles and 'PIGLET' continue their endless fun and are current members of Hurricane Rodders of Dunedin where they come from.
Stu would like to especially thank Mark Stead from Big Shed Customs for all his help and getting the project back on track. It's not everyone's cup of tea to take on someone else's cock-up and make it good.
Stu also thanks his wife Glynis for her patience and understanding during the rebuild and the years of drama surrounding it.
There are too many others who've helped and contributed along the way to mention individually, so a big thank you to you all as well!