This article about the Shelby Mustang restored by Big Shed Customs appeared in the Mat 28th edition of The Selwyn Times.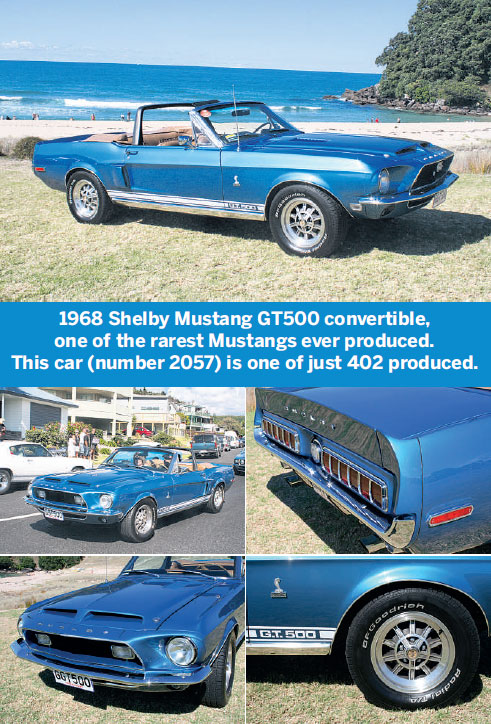 By: Craig Stare
I spotted this car several years ago undergoing a major restoration at Big shed customs in Blenheim. Brendan and Gail Woods are the lucky owners of this extremely rare 1968 Shelby Mustang convertible, one of the rarest Mustangs ever produced. This car (2057) is one of just 402, GT500 convertibles ever produced. The 500 refers to it being powered by a 428 Cobra Jet engine and in this case backed up by a C6 automatic. Its factory colour is Acapulco blue with saddle tan interior, this combination only featured in 17 of those 402 cars!
Brendan and Gail now live in picturesque Akaroa, but still own a farm in the Selwyn district. The car was built on the 26th February at the Metuchen assembly plant before being shipped to North-Western Ford (Milwaukee, Wisconsin) in April of that year.
Along with nine other Shelby convertibles, this car was loaned to the newly opened Playboy mansion in Lake Geneva, Wisconsin. It even drove in the grand opening parade. Some of these cars stayed as long as six months mainly used for V.I.P transportation. The car was still brand new.
It doesn't stop there with No 2057 also appearing in several episodes of theTVcomedy series 'Get Smart'. The main actor, Don Adams was a frequent visitor to the Playboy clubs.
The car went through several owners and by 1996 it was painted yellowwith a brown roof and lived in Canada. In 2010 Brendan replied to an advert and purchased the car, from Japan. The car was shipped back, totally stripped back to every nut and bolt and repainted to its original Acapulco blue, and the car fully restored on a rotisserie.
Since completion, the car has driven the length of New Zealand twice, once to the Mustang convention in Auckland and again to the Beach Hop in Whangamata.